Klassisch

J.S.Bach, J. Dowland, R. de Visée, Francesco da Milano, G. Sanz, L. Milan, L. Narvaez, A.Mudarra, L. Roncalli, D. Aguado,M. Carcassi, F. Carulli, N. Coste, A. Diabelli, N. Paganini, A. Giuliani, F. Sor, A.B. Mangorè, A. Castelnuovo-Tedesco, J.T. Guimaraes,W. Duarte, A. Lauro,M. Llobet, A. Josè, A. Piazzolla, M.M. Ponce, F. Tarrega, F.M. Torroba, , J. Turina, H. Villa-Lobos, l. Brouwer, R. Dyens, S. Dogson, H. Quine, F. Margola, F. Martin, E. Morricone, R. Smith Brindle, E. Morricone, ect.
Pop/Rock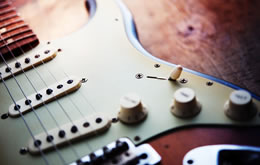 Bryan Adams, Beatles, A. Bourani, B. Mars, T. Chapman, Cramberries, L. Cohen, J. Cocker, Eagles, N. Imbruglia, E. John, Nora Jones, Avril Lavigne, Alanis Morissette, Nirvana, Oasis, R.E.M., Red Hot Chili Peppers, C. Santana, Sting, J. Taylor, Black Sabbath, , Cream, Deep Purple, Guns N' Roses, James Brown, Led Zeppelin, Lynyrd Skynyrd, Megadeth, , Motley Crue, Ozzy Osbourne, Pink Floyd, Police, Queen, Rolling Stones, U2, , M. Jackson, Black Sabbath, Cat Stevens ,etc.
Jazz/Blues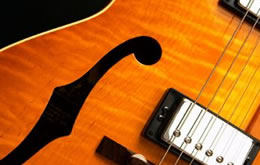 Jazzstandard – (Jazz-Kompositionen vergangener Jahre und Jahrzehnte, die von Jazzmusikern besonders oft und kontinuierlich gespielt wurden): z.B. Auutumn Leaves, Stardust, Tea for two, All of You, All the things you are, Blue Monk, Cantaloupe Island, Fly Me to the Moon, Georgia on My Mind, Sommertime, The Man I Love, Perdido, Caravan, Sometimes I feel Like a Motherless Child, Tenderly, Wave, Felicidade, One Note Samba, etc
Von Charlie Christian/Benny Goodman Swing Musik. Jim Hall, Wes Montgomery, Barney Kessel, Mike Stern, George Benson, Joe Pass, Robben Ford, S.R. Vaugan, Gary Moore, B.B. King, E. Clapton, Muddy Waters, Chuck Berry, etc.
Italienische Volkslieder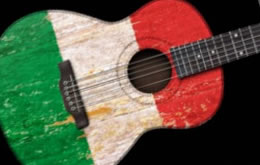 Zucchero, E. Ramazzotti, De Andrè, Dalla, Renato Zero, Bennato, De Gregori, Battisti, Pausini, Nek, Vendittti, Vasco Rossi, Baglioni, Paoli, Branduardi, Pino Daniele, Modugno, Cotugno, A. Celentano, Concato, Jovanotti, G. Nannini, F. Califano, Ranieri, Morandi, Ligabue, U. Tozzi, Paolo Conte, etc.